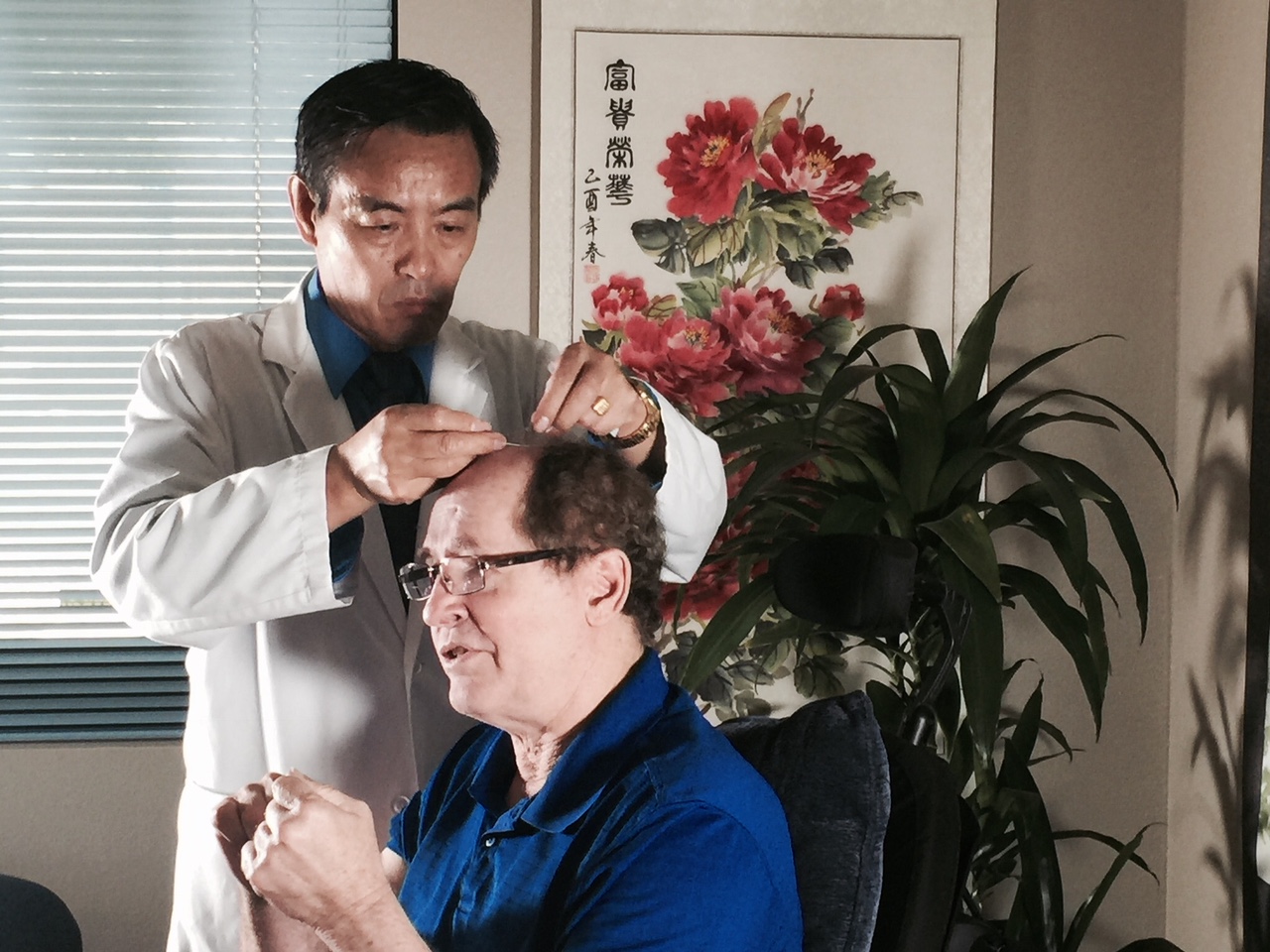 Jason Hao Interview
Jason Hao, president of the Neuro-Acupuncture Institute in the US, will be teaching a seminar about Chinese Scalp Acupuncture, also called Neuro-Acupuncture, in Amsterdam from November 1st-3rd 2019. For this occasion we took the time to ask him a few questions about his method of Scalp Acupuncture.
Q: Jason, first of all we are really excited to host your seminar in November in Amsterdam. Unfortunately, few practitioners actually have first hand experience in how powerful Scalp Acupuncture can be in treating neurological disorders. You are running an acupuncture clinic in the US focused on treating neurological disorders. Can you maybe tell us what kind of conditions you see most often? 
JH: Scalp acupuncture on areas are frequently used in
the rehabilitation of paralysis due to stroke,
multiple sclerosis,
automobile accident,
cerebral palsy, and
Parkinson disease.
They are also often used in pain management, especially that caused by the central nervous system, such as
phantom pain,
complex regional pain,
and residual limb pain.
It has been proven to have very effective results in treating
aphasia,
loss of balance,
loss of hearing,
dizziness
and vertigo.
Q: What do you find you can treat particularly well with your method of Scalp Acupuncture? 
JH: We have treated many patients with neurological disorders and have good results, including
multiple sclerosis,
stroke,
PTSD,
traumatic brain injury,
post-concussion syndrome,
cerebral palsy,
autism,
phantom pain,
complex regional pain,
Parkinson's disease,
and Meniere's syndrome.
Q: What does a Scalp Acupuncture treatment look like? How many needles do you use, how long do you leave the needles in and how much do you manipulate the needles? Tell us a little bit about a typical Scalp treatment you perform.
JH: Chinese scalp acupuncture is a contemporary acupuncture technique integrating traditional Chinese needling methods with Western medical knowledge of the brain.  Scalp acupuncture has been proven to be the most effective technique for treating central nervous system disorders. It often produces remarkable results with just a few needles and usually brings about immediate improvements.
In a common treatment, we examine a patient based on neurological examinations first, diagnose which areas of the brain are affected, then put some needles in several projective areas on the scalp, then stimulate the needles, assess the results.
We usually use 4-8 needles. The retention of needles is 30-45 minutes. We manipulate every 10 minutes for 2-3 minutes.
Q: How many treatments are usually necessary and what about the treatment frequency?
JH: Most patients (90%) whom we treated showed improvements within initial 3 treatments, and many of them showed improvement at the first treatment. At the beginning of treatments, we treat patients 2-3 times per week, then reduce to once a week after they have major improvements.
Q: Multiple Sclerosis is a neurological condition that is on the rise. What is your experience with this condition and how well can you treat it? 
JH: We have treated many MS patients and had good results. Many of them are free of symptoms and changed to remission. The best results that I got is a lawyer with MS for 20 years and he was disabled from his work for 12 years. He had weakness and stiffness of legs, poor balance, trouble walking even with a cane, decreased eye vision, severe fatigue and depression. After 3 treatments all of his symptoms were gone and he returned to a full-time work after 4 treatments. He has no MS symptoms for 5 years now and has a normal life.
Q: Last question: why do you think everyone should learn Scalp acupuncture? 
JH: Acupuncture and moxibustion have been used to prevent and treat disease in China for thousands of years. Scalp acupuncture, however, is a modern technique with just 50 years of history. In the West, many healthcare practitioners are familiar with acupuncture for pain management. However, neuro-acupuncture, as a main tool for rehabilitation is a relatively new concept. It is still not easy for medical practitioners and the public to accept the idea and reality that acupuncture can help in the recovery of paralysis, aphasia, ataxia and that Western medical technology does not have effective treatment so far with those conditions.
The technique of Scalp acupuncture is systematic, logical, easy to understand, and easy to practice. Acupuncture on the scalp is easier accessible, less expensive, entails less risk, can yield quicker responses, and often causes fewer side effects than Western treatments. The practitioner should consider scalp acupuncture as either the primary approach or a complementary approach to treating disorders of the central nervous system and endocrine system. Neuro-acupuncture can transform the lives of both practitioners and patients.
If you want to add a new high-level skill to your acupuncture practice, or if you ever wished you could help patients with even the most challenging condition, or you need more patients, or if you need to improve your financial condition, you need to learn and master this technique.
I look forward to meeting you and sharing our very effective techniques and successful stories with you. Please bring and refer your patients to the class for demonstrations. It will be very exciting to observe the good results.
Please visit our new website at www.neuro-acupuncture.org for more information on us and many new short films, interviews and articles.
Best,
Dr. Jason Hao, the president of Neuro-Acupuncture Institute in USA
Neuro-Acupuncture Seminar, Amsterdam
Neurological disorders are on the rise. Would you like to become an expert in treating neurological conditions such as Multiple Sclerosis with acupuncture? Then this seminar from November 1st-3rd 2019 with Jason and Linda Hao PhD is definitely for you! Sign up today, only limited spots available!